Active School Week 2017
Active Week – Day 1 – Athletics
Active Week began today! Well done to all who took part.
We made the most of the weather and had lots of fun! Today we focused on Athletics. We ran, sprinted, did relays and took part in lots of fun races like the egg and spoon race, the sack race, the three legged race and much, much more! Here are some pictures for you to enjoy! 

3rd&4th Class
Active Week – day 2 – Games
Today we focused on the Games strand. All classes had lots of fun playing all sorts of games for example hurling, soccer, basketball, badminton, ball games, parachute games and much, much more! Here are some pictures for you to enjoy!
3rd &4th Class
Active Week – Day 3 – Gymnastics
Today we focused on the gymnastics strand. We has lots of fun learning different rolls for example the pencil roll, the egg roll, the James Bond roll, the forward roll and the teddy bear roll. Even some of the teachers had a go! 

 Some of the children who do gymnastics outside school got the chance to show us some of their routines too! It was great fun!
3rd & 4th Class
Walk Wednesday Success
Even on a wet and miserable Wednesday the pupils of Kiltealy N.S were out in force to take part in Walk on Wednesday. Pupils from Junior Infants right up to 6th class took part in the walk on Wednesday 31st of May. Our walk began in the Church car park and continued up through the village and onto the school . We had lots of fun on our walk despite the weather. Well done to all our active and brave students! A special thanks to Miss O'Neill who organised our walk.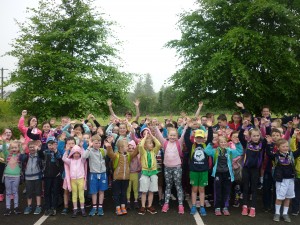 Here are some Photos of our walk.
Active Week – Day 4 – Dance
Today we focused on the Dance strand. We danced to music using the interactive whiteboard. We danced along to go noodle and just dance for kids! Then we made up dance moves in groups to a certain songs and performed to for other classes. It was great fun! Here are some pictures of the kids in action! 

3rd & 4th Class
Active Week – Day 5 – Outdoor & Adventure
Today is our last day of Active Week and we focused on Outdoor & Adventure activities. We worked in groups, reading maps and finding different tags around the school. The children showed great team work and communication skills and had lots of fun along the way. Here are some photos or our adventures!
3rd & 4th Class
Our school promotes physical activity in a cross-curricular way throughout Active School Week 
Maths trails, nature walks, songs and dance outside etc.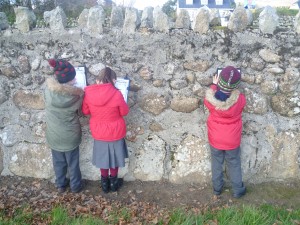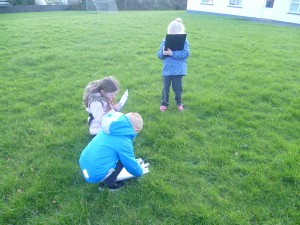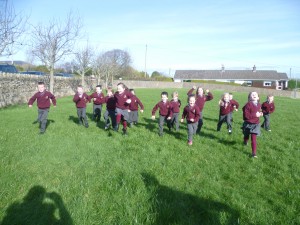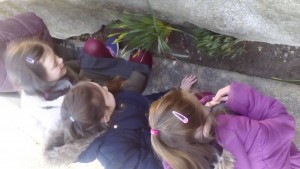 Active Homework!!!
Active Archie's Adventures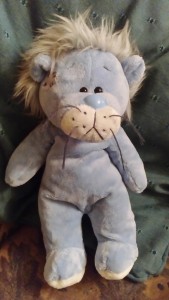 Through our Active Flag we are raising awareness of fitness among children. We will be aiming to explore as many avenues as possible to keep the children fit and active.
Active Archie has arrived in Kiltealty N.S. and has visited the children to say hello. As his name suggests, he likes getting lots of exercise and he really enjoys trying new activities.
We would like to invite boys and girls in the junior classes and their families to bring Active Archie along with them if they are doing some kind of physical activity, or going to a sporting event as either participants or spectators.
Active Archie will help us see all the activities that the children are involved in at home. This may be organised activities or simply bouncing on the trampoline. Active Archie will be having all sorts of exciting adventures in the next few months!
It would be great if the boys and girls could write about what they did with Active Archie and/or draw a picture about their adventure. Hopefully Active Archie will get to do lots of fun activities with the boys and girls and their families.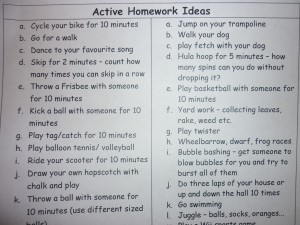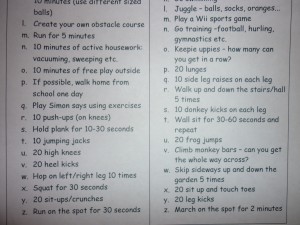 Above: Some of our Active Committee ready to distribute the Super Trooper Packs to teachers and children.
Thank you to Jim Cooper, Jim Hanrahan, Keith Murphy, PJ and Robbie from 365 GAA and to our transition years who helped us during our Active School Week!