Fifth & Sixth Class
June 2022
Rackard League Celebrations
European Country Projects
Father's Day Art
Confirmation Art
Scratch/Coding with Sinead for STEM
Hurling/Presentation to Jim & Jim
Splash Day

School Tour – June 2022
Clara Lara
(3rd – 6th Class)

May 2022
Bike Week
P.E. Athletics
Swimming 3rd – 6th Class
Football Coaching

April 2022
Easter Fun!
Readathon Dress Up
Rackard League Bingo!
Active Breaks!
Funky Kids

March 2022
Art: Funky Kids Props
Pastel Shamrocks
Spring Clean
Gardening/Weeding
SnaG: Tráth na gCeist
Fire Engine Visit
WOW
Lá Glas
Active Lines

February 2022
Claude Monet
Chinese Dragons
Active School Slogans
Gymnastics
Valentine's Day Art

January 2022
Self Portraits
Agamograph Illusion Art – Happy New Year
France Fact File
PE: Games Connect 4

December 2021
Santa Visit
Santa Projects
Christmas Quiz Winners
Funky Kids
Pyjama Party with Hot Chocolate
Chalk Pastel Art
Silhouette Art using washable markers
Christmas Tree Decorations

November 2021
Science Week
Forces – Balloon Car
Liquid Density
Toy Show – Origami Treat Bags

October 2021
Oil Pastel Bat Art
Hoola Hut Pod Challenge
STEM – Investigating Gravity
Halloween Witch Walk

September 2021
STEM – Forces of Gravity
Funky Kids

Up, Up and Away…
6th Class Hoodies
School Garden
We repainted the flower beds in our school garden.
Obstacle Course Relay Fun!
Christmas Project Winners!
Christmas Projects 2020!
Toy Show Ready!
Science Week!
Tangrams
Print Making in 5th & 6th
Artwork!
Boys Mini 7s Team 2018
A great day out. Our boys were unlucky not to progress to the next round

Dogs Trust Visit
5th & 6th really enjoyed our visit from Heather and her dog Ted

Yard Game Markings
5th & 6th created some wonderful playground games and painted them to the yard using stencils. These games are enjoyed by all.

Green Schools
5th & 6th on the annual Spring Clean. Well done guys.

Class of 2018 Hoodies
5th & 6th recently designed and ordered their Class of 2018 Hoodies. They look smashing. Well done.

Confirmation Art
5th & 6th Class Artwork for their confirmation looks amazing on display in Ballindaggin Church. Congratulations to all who were confirmed on the day.

Swimming Certificates
Congratulations to members of 5th & 6th Class who recently completed their swimming lessons for 2018.

Photo Fun
Trying to achieve the perfect graduation and confirmation photo. 🙂

Girls Mini 7s team 2018
Congratulations to our mini 7s camogie team on a very successful campaign for 2018. The girls made it to the semi-final and despite winning their first game they were defeated in their second game and missed out on the final. Well done on getting so far girls.

WeDo Lego
Members of 5th & 6th Class enjoying their lego construction. They then programmed and coded their masterpieces to make the move.

Confirmation Retreat
5th & 6th Class recently enjoyed a retreat to Ballyvaloo Centre in preparation for receiving their Confirmation on June 1st. A great day was had by all.
Confirmation class 2018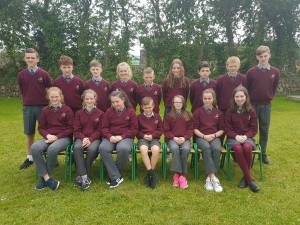 A massive well done and congratulations to our pupils from 3rd – 6th who took part in the Sing Out Loud Concert in Wexford Opera House in November 19th.
Many thanks to the teachers for their time and effort in preparing the pupils and accompanying them to the weekend show.
It was a fantastic experience for all involved and parents enjoyed a thrilling show!!
Some pictures from rehearsals below!!
Well done to all pupils in 5th & 6th classes who, in keeping with tradition, produced fantastic Christmas Projects again this year.
It was a difficult task voting and results were tight. Congratulations to the winners and all involved.
1st place: Lauren Smyth
2nd Place: Danny Fitzhenry
3rd: Katie Bowe
Joint 4th: Ciarán Murphy/Libby Cullen
Joint 5th: David Nolan/ Ellie Watchorn
Well done to all pupils and teachers who in recent weeks were busy crafting and making special treats for the Christmas Craft Fair.
Many thanks to our newly formed Parents Association who looked after our stand for the day.
And a final thanks to all who visited our stand and supported us by making purchases.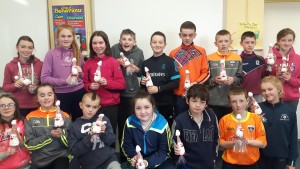 Our Santa Sweet Treats-a tedious but enjoyable task!!
And below….hand-painting our ornaments!
Congratulations to the 5th & 6th class pupils on an outstanding performance in the recent Schools Football Blitz in Coolree. There were 6 teams presetn on the day. Kiltealy topped the table on points by the end of the 5th round having won four of their games and drawing just one against near rivals Caim. they met came again in the A final but unfortunately lost our to a good Caim side. Kiltealy were gracious as ever in defeat.
Well done to all involved and a big thank you to Jim Copper for attending on the day as part of our GAA management team.
Jim presented the runner-up medals to the Kiltealy Team the next morning during their weekly training session.
Congratulations to all who took part in the recent Co. Wexford Primary School Sports Day held in Enniscorthy Sports Hub.
Our big winner on the day was Dannan Long who won gold in the U12 high jump competition. This is a huge achievement and we are all very proud of Dannan.
All competitors put in great performances and we were unlucky not to qualify to the finals in a number of events.
A great time was had by all on our recent school tour. 3rd-6th classes descended on Dublin for the day. First stop was Dublin Zoo. We had fabulous weather while there. We then traveled on to Croke Park for a guided tour. The pupils thoroughly enjoyed visiting the dressing rooms and and players lounge.
Dublin Zoo
Photo Fun
Croke Park
************************************************************************************
May 2017
5th & 6th Class
Soccer Skills with Alan Pike
*****************************************************
******************************
Charcoal Art
5th & 6th Class
****************************************
GREEN SCHOOLS
We had a Low Energy Day on the 18th of January. It was very successful as we noticed a great decrease in energy usage compared to a normal school day. More Low Energy Days are planned for the coming weeks! This is an example of one of the many ways Kiltealy N.S. are working towards our second Green Flag, the Energy Flag.
Low Energy Day
Wednesday 18th January
9.20am – 3.00pm
Tips on how you can keep your energy use to a minimum
Turn off unnecessary lighting-keep your blinds up
No whiteboards/printers/photocopiers/laminators/cd players in use
Charge laptops the day before
Try photocopy before 9.20am
Teachers bring lunches that don't require microwaving or toasting.
Keep tea consumption to a minimum
*************************************************************************************************************
Entrance Exams
6th Class are currently preparing for their entrance exams for secondary school. We wish all of the pupils the best of luck with them!
*************************************************************************************************************
5th and 6th Class project – The winners of 2016
Congratulations to all the children who took part in our annual 5th and 6th Class Christmas Projects here in Kiltealy N.S. Once again the standard of the projects was exceptionally high. The projects provide a lovely opportunity for the children to showcase their own personal interests and hidden talents. Well done to all the children who took part.
First Place – Danny Fitzhenry
Second Place – Ciarán Murphy
Third Place – James Aylward
Fourth Place – Lauren Smyth
Fifth Place – Noel Cowman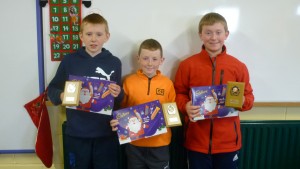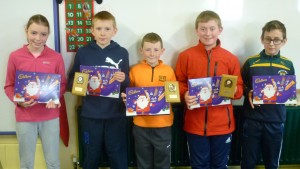 *********************************************************************************************************
5th and 6th Class Christmas Projects!
5th & 6th class had a busy few weeks preparing their Christmas Projects. The standard was superb again this year and all pupils should be extremely proud of their efforts. All projects were highly commended by staff and pupils. Well done to all involved.
*****************************************************
Picasso Art
Take a look at our Picasso inspired Art that we created last week. This was a really fun lesson.
****************************************
Rackard League District Champions
*********************************
*************************
Green School Energy Experts
The 5th & 6th Class members of the Green School Committee were out and about spreading their knowledge on Energy. The Energy Experts had spent a few days learning all about energy, what we need energy for, where this energy comes from and what the future holds.
Having gained all their knowledge the 5th and 6th class pupils created a survey for children from 1st class to 4th class to see how much they knew about energy.
They then created a power-point about energy that they would present to the other classes in the school to make them more energy aware.
The classes were informed about non-renewable energy sources of coal, oil and gas. The burning of these fossil fuels can have negative effects on our environment causing climate change. These non-renewable energy sources are also running out.
We can help our environment by using less energy and also using alternative sources of renewable energy. The presentation provided the children with information on renewable energy sources.
After the presentations the pupils then took the energy survey for a second time and it was very evident that they had gained lots of new knowledge and were now more energy aware.
The Green School Committee came up with lots of ways in which we can save energy and use less energy within our school environment.
They have begun "The Switch It Off" campaign. They have created LOLO (Last Out Lights OFF) signs and TAYTO (Turn All Your Things Off) signs to remind us all to use less energy.
Well done to 5th & 6th classes and The Green School Committee for all their hard work to date.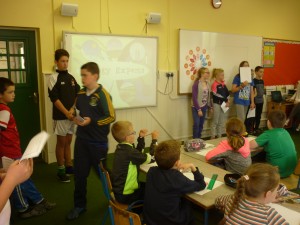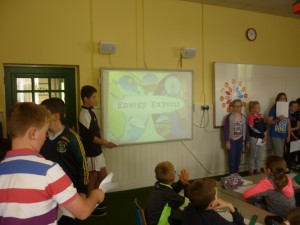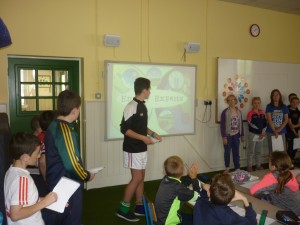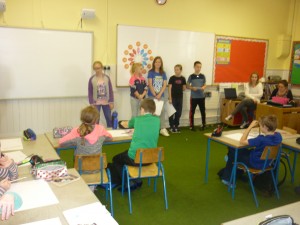 Powerpoint Presentation to 3rd & 4th Class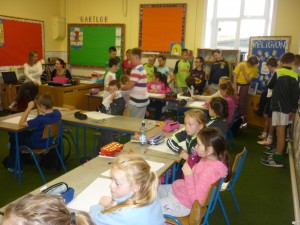 Eager learners in 3rd & 4th Class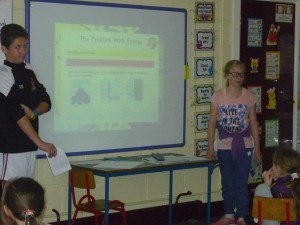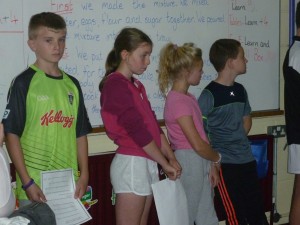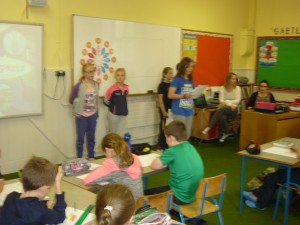 Powerpoint Presentation to 1st & 2nd Class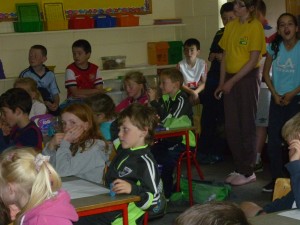 Eager Learners in 1st & 2nd Class
**********************************************************
Maths Week Fun
The children in Kiltealy thoroughly enjoyed a range of activities throughout Maths Week last week. Well done to all involved.
Some activities they engaged in are listed below.
The whole school took part in the Maths Problem Of The Day Challenge. These included- A Time Estimation Challenge, A Length Estimation Challenge and A Number Estimation Challenge. There were overall winners and class runners up for each problem.
A special round of their weekly Problem Solving Quiz with double the quiz questions and an opportunity to score double the points.
Some interactive whiteboard maths games. They got very competitive as they tried to not only beat each others scores but also beat the timer in multiplication, division, addition and subtraction games. 5th & 6th also played and Angle Alienation Game where they showed their skills and knowledge of angle degrees.
Outdoor Maths Trails were a great hit and we were lucky that the weather held up for this fun activity.
A fun day was had on Thursday when the children were quizzed on all their Maths knowledge to date. The final score count was extremely close in all age groups.
The children created some beautiful Maths art that is on display throughout the building.
Take a look below at all the fun that was had as well as all the winners receiving their prizes at Mondays assembly.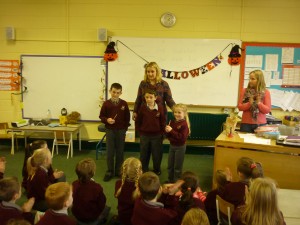 Runners up in the Time challenge-Tomás Murphy-5th & 6th, Alex Carroll-1st & 2nd and Anne-Marie Roche-Junior & Senior Infants
Absent from Photos-Aela Bowe who was the overall Winner of The Time Challenge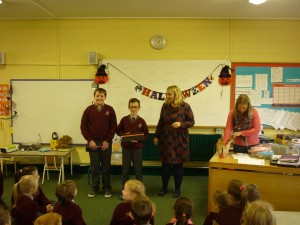 Joint winners of The Length Estimation Challenge: Cillian Hanrahan and Noel Cowman 5th & 6th Class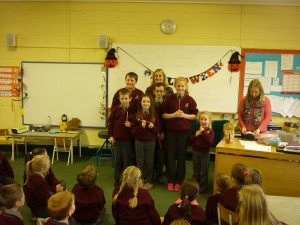 Runners up of the Length Estimation Challenge: Aimee Neville and Aisling O'Brien-3rd and 4th Class, Bobby Watchorn-1st &2nd Class and Anne-Marie Roche-Junior & Senior Infants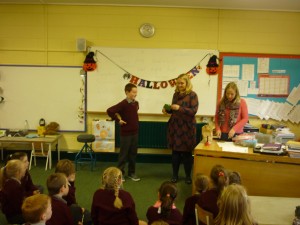 Winner of the Number Estimation Challenge: Steven Kavanagh 5th & 6th Class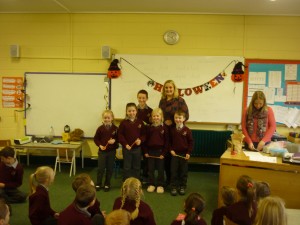 Runners up of The number Estimation Challenge: Róisín Dwyer 3rd & 4th class, Aimee Bowe and Kayla Grogan-1st & 2nd Class and Paul Armstrong Junior & Senior Infants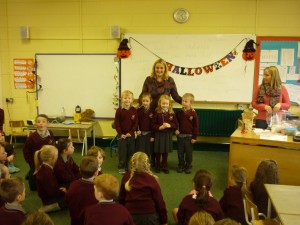 Winners of the Infant Room Quiz: The Green Team- Fionn Waters, Ryan Bowe, Hannah Watchorn and Róisín Jordan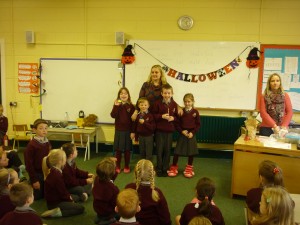 Winners of the 1st & 2nd Class Quiz: The Fantastic Kids- Ciara Doyle, Robert, Niamh Healy and Bobby Watchorn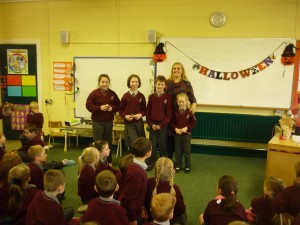 Winners of the 3rd & 4th Class Quiz: The Rocking Calculators-Ellie Watchorn, Tiernen Hanrahan, Niamh Armstrong and Róisín Dwyer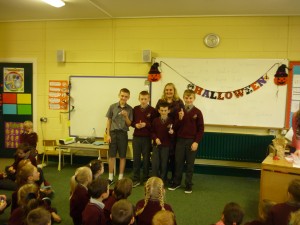 Winners of the 5th & 6th Class Senior Quiz: Fraction Attraction-Danny Fitzhenry, Dylan Purcell, Tomás Murphy and Padraig Waters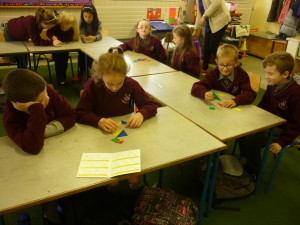 Tangram Fun 3rd & 4th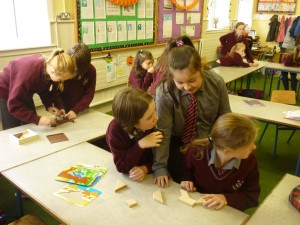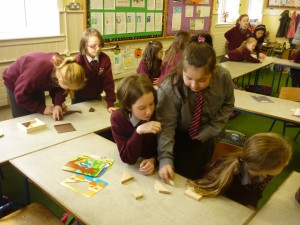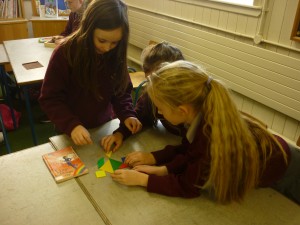 Tangram Fun 3rd & 4th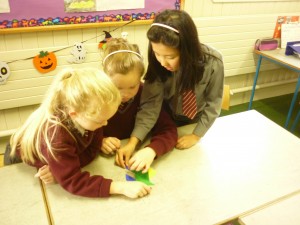 Tangram Fun 3rd & 4th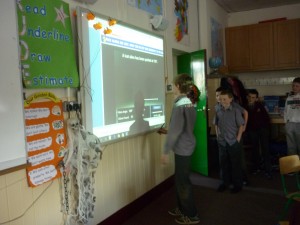 Interactive Whiteboard Maths Games in 5th & 6th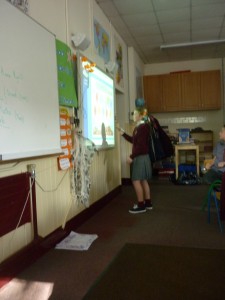 Interactive Whiteboard Maths Games in 5th & 6th
*********************************************************************************************************
JUNE: END OF SCHOOL YEAR 2015/2016
**********************************************
Healthy Eating Day Last Month & Sugar Crash Project Work
******************************************
Marbling Art 5th & 6th
**********************************************************************
Primary Planet News!!!
Each month our 5th & 6th classes receive their own copy of The Primary Planet. The Primary Planet is Ireland's first children's news magazine. News, sport, music, entertainment, and politics are some of the many topics featured in this exciting publication each month. Aimed at the senior classes, this newspaper style glossy magazine contains 40 pages of fresh, topical and up to date features each month.
Its purpose is to bring news, sport and entertainment to children in a language they understand and in a manner they can easily relate to. It also encourages children to read and write for a purpose, providing opportunities for them to contribute to the magazine and engage with our readers.
There is always great excitement when the monthly delivery arrives into our classroom.
Keep an eye on our web page to find out what new, interesting, fun and inspiring things our class has learned from reading The Primary Planet.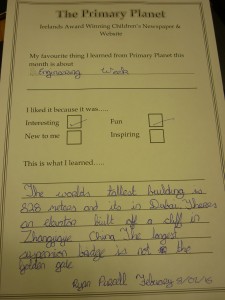 *************************************
3rd – 6th class Music
3rd – 6th class are sounding superb in their music lessons. All pupils are learning to play the tin whistle. For a lot of them this is their first time learning a musical instrument. We have a great music group formed with a variety of instruments. We look forward to hearing their talents at various school events throughout the year.
*********************************************
Yoga Moves in 5th & 6th
5th & 6th enjoyed their Yoga for Kids Programme in P.E. over the past 6 weeks. Each yoga position had a name eg. hero, bridge, happy cat, up dog, sprinter. Groups of children wrote stories using the vocabulary of the yoga positions. They then narrated the story while acting out their yoga positions.
Entrance Exams!!
Best of luck to all our 6th class pupils sitting their entrance exams over the next two weekends in both the FCJ and Vocational College in Bunclody!
****************************************************
Enniscorthy Credit Union Schools Quiz!