Monthly Archives:
April 2017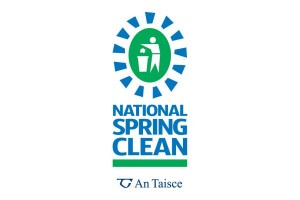 Well done to all pupils in Kiltealy N.S who took part in our National Spring Clean Day on Thursday 27th April. Each class group covered a different area of the village and did a great job in cleaning up their allocated area. Areas covered were the school grounds, Griffith Avenue, the hall carpark, the main street, the church carpark and inside the graveyard walls.
5th & 6th Classes
3rd & 4th
1st & 2nd Classes
     Infants Spring Clean !!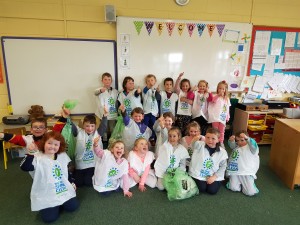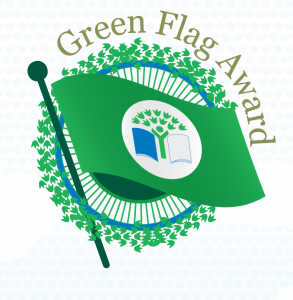 We received great news this week informing us that our application for the International Green Flag Award on the theme of Energy has been successful. This is the second green flag to be awarded to Kiltealy N.S having received our first Green Flag on the Theme of Litter and Waste in 2015.
The school were commended for their hard work and have been invited to an awards ceremony on May 23rd in Hotel Kilkenny where they will be presented with The Green Flag by An Taisce. Not everyone can attend the ceremony due to the number of schools achieving awards on the day and so two senior members of our Green Schools Committee  will accept the Green Flag on behalf of the school, along with our Principal Ms. Mary Carroll, and Green School Co-ordinator Ms. Maeve Duff.
Well done to all involved.
Congratulations to Dannan and Neasa Long who shared the winnings of this weeks pot. They won €492. There was a great number of entries to the pot over the Easter holidays and again we thank you all for this continued support.
Congratulations to the hurling and camogie teams this week. Our hurlers had a great win over Marshalstown in Farmleigh on Tuesday with a final score of 5-15 to 1-1.
Our camogie team had an impressive win over Castlebridge on Monday. The final score in Coolree was Ballindaggin (Kiltealy & Caim) 9-3 Castlebridge 0-0.
Our next games will take place after the Easter Holidays!
Pupils from infants to 6th Class dressed up recently for World Book Day.
5th & 6th Class spent some time in the Infant room for Paired Reading. This is always an enjoyable time shared between the oldest and youngest in our school.
Our Readathon is in full swing and runs until the Easter break. Teams Dahl, Morpurgo, Walliams and Rowling are busy reading books in a race to see which team will win title of Readathon Champions 2017.
 Ms O' Neills 3rd & 4th Class on World Book Day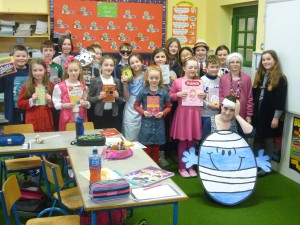 5th & 6th Class on World Book Day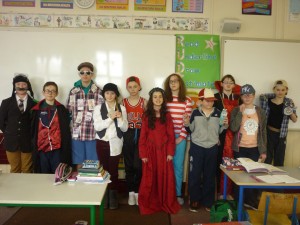 5th & 6th Class spent some time in the Infant room on World Book Day. Paired Reading in full swing. This is always an enjoyable time shared between the oldest and youngest in our school.
Lots of fun was had in Kiltealy NS for Seachtain na Gaeilge.
All pupils were doing their best throughout the week to speak 'as gaeilge' informally each day. Prizes were given out in all classrooms for the great efforts being made.
Tráth na gCeist
5th & 6th Class held a Tráth na gCeist. The pupils really enjoyed coming up with team names 'as gaeilge' and taking part in a quiz through Irish. Congratulations to our winning team below "Bolg Buí Buachaillí" (Yellow Belly Boys!!)
Tráth na gCeist Winners-Bolg Buí Buachaillí (Michael Murphy missing from photo)
Céilí Fun
The whole school participated in a céilí
Ionsaí na hInse was the dance of choice while the infants practiced their Irish Dancing steps in a group circle. As you can see from our photos this was an enjoyable afternoon.
The best group of dancers was from the senior room- Ryan, Cillian, Emma, Rebecca, Lauren, Caoimhe, Heather and Aisling! Well done to all who took part
5th & 6th class were very busy making a huge backdrop for a recent fundraiser in The Community Hall. Funds are being raised to develop a community playground and so it was very fitting that the children of the community were able to contribute to the Rose of Kiltealy Fundraising event.
Many hours of work went into making this display, which included crepe papering each individual letter, heart and rose, cutting of letters, taping the card background, covering the card background with black paper, strategic placing and stapling of letters.
5th & 6th class really enjoyed the process. Well done to them all.
Take a look at the process and the finished product below.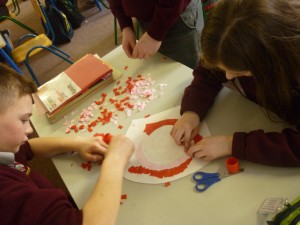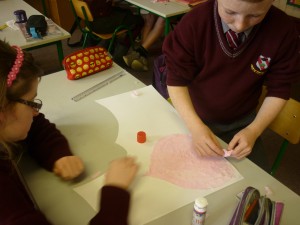 The pupils from 5th & 6th class celebrated internet safety day recently.
The pupils watched some cartoon video logs highlighting the importance of internet safety and engaged in discussion to highlight the importance of safer internet use especially in the area of social media sites.
They carried out an experiment around the sharing of images online and how they can become viral in a very short space of time.