Active School Committee 2016/2017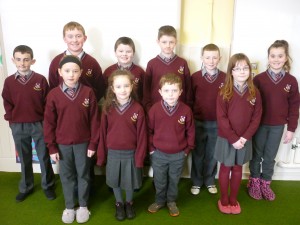 Our Active Committee
The pupils on the active schools committee have been given leadership roles:
Active line leaders at the end of break
Playground leaders
Look after the sports baskets used at break times
Keep the P.E. shed neat and tidy
Make sure all the equipment in the P.E. shed are placed in the correct baskets/bags
Carry out surveys
Report any messages back to their class teachers and classmates
Report and problems that may arise among the children with regards P.E. back to a member of staff
Organise and help set up equipment for sports day
Organise equipment and look after their teams during 10@10
Active School Notice Boards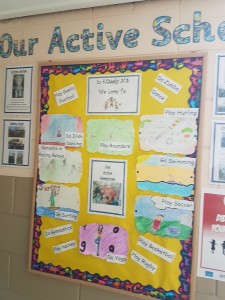 School Suggestions Box!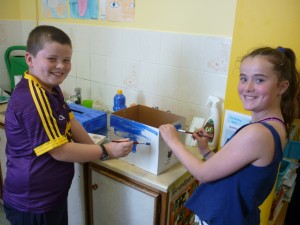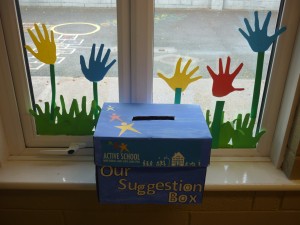 Sports Achievements!
Well done to everybody! Keep up the great work!
Irish Dancing…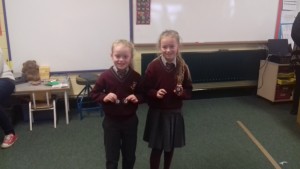 Gymnastics…

Ballroom Dancing…

Congratulations to 5th class pupil Ciarán Murphy who had the honour of leading out the Irish Soccer Team,as a flag bearer, in their qualifying game against Georgia. The match took place in The Aviva Stadium last Thursday night. This was a once in a lifetime opportunity and experience for Ciarán and his family. Ireland won on the night too which was an added bonus!! Check out the pictures of Ciarán below.
Physical activity opportunities
in the local area:
What Club Are You In???
Well done to Ms. Duff's 5th and 6th class who carried out a survey to find out about the types of physical activity that the children in Kiltealy N.S. are involved in. They also found out about physical activity opportunities in the local community. Here are the results:
Our school invites different sports clubs/physical activity providers from the local community to visit our school during the year and during Active School Week!
Zumba…
Rugby…
All the pupils in Kiltealy N.S. are looking forward to the Tag Rugby Season commencing in May !!
Gardening with Jim Hanrahan…
We keep active by gardening….we love to weed and water our plants!!!!
Third and Fourth Classes had great fun planting vegetables in our school garden. We planted peas,potatoes, onions, lettuce, carrots and parsnips. Thank you to Mr. Hanrahan for teaching us how to sow the vegetables. We have lots of volunteers to go and water the vegetables every day!!
To be continued……..
Children from 1st -6th class enjoyed harvesting the lovely vegetables sown last Spring. 4th & 5th class pupils were very eager to see the produce from their mini garden which they cared for so well since the Spring. Thank you to Jim Hanrahan who helped set up and maintain our garden. Jim passed on lots of gardening knowledge to our garden carers. Well done to all involved. Enjoy our photos below.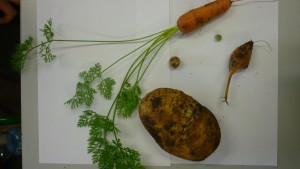 Hurling with Jim Cooper, Jim Hanrahan and Keith Murphy…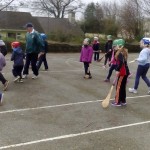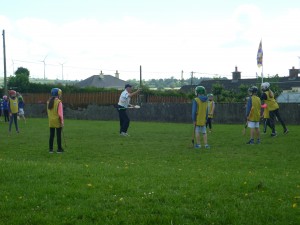 Dance with Denis and Olivia…
Dance Workshop Fun
On the 19th and 20th of December, after three months of practice, the children finally put on their Funky Kids Concert for all their family and friends. It was a fantastic show filled with lots of brilliant singing and dancing. There was something for everyone, from Noah's Ark and The Grease Melody to Puppet on a String and Monster Mash. It was great to see everybody up singing and dancing and having FUN!
Well done to everyone involved especially the stars of our show, the children. The staff and children from Kiltealy N.S.would like to thank Denis and Olivia (Funky Kids) for all their hard work over the past few months!
Swimming…
Wexford Training Mentors
Congratulations to all the 5th and 6th class pupils who were part of the victorious Rackard League Football Team. The team defeated Oulart in the Enniscorthy District Final yesterday on a scoreline of 3-7 to 1-2.
Padraig Waters (1-2) had a great game, getting vital scores in the first half when there was very little between the teams. Ryan Purcell used his height to his advantage at full forward, making things very difficult for the Oulart full back line.
Danny Fitzhenry was very influential at midfield, supplying great balls into the forwards. Dylan Purcell, David Nolan and Noel Cowman were powerful in the backs throughout the 50 minutes. James Aylward was introduced towards the end and made his mark on the game.
Kiltealy players: Ryan Purcell, Padraig Waters, Danny Fitzhenry, David Nolan, Dylan Purcell, Noel Cowman, James Aylward, Jacques Neville and Cillian Hanrahan all made appearances on the team throughout the league campaign.
The team now go on to contest the county semi-final which will be played after the mid-term break.
Well done to the boys for getting this far in the league. We are very proud of their success and we will be out again in numbers to support them on their quest to the final.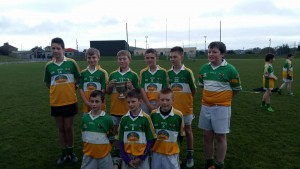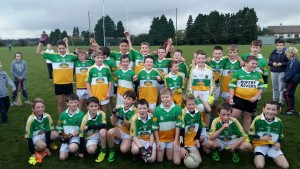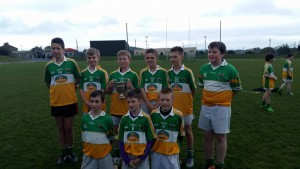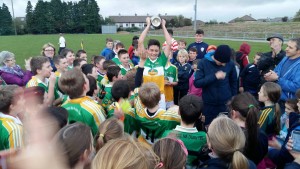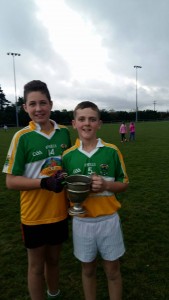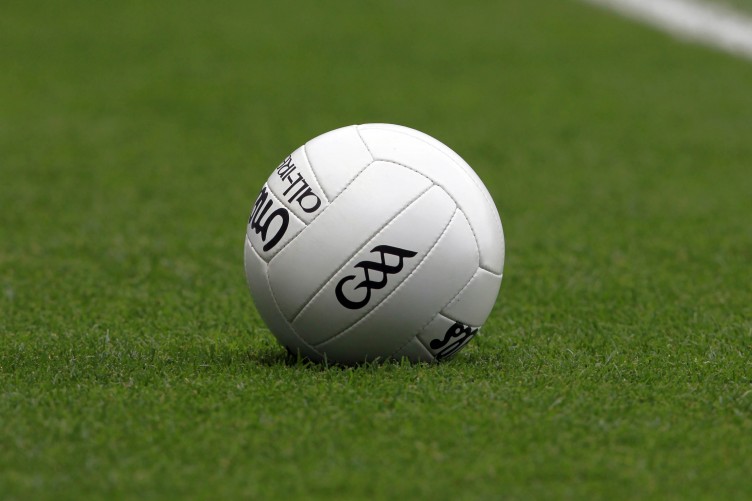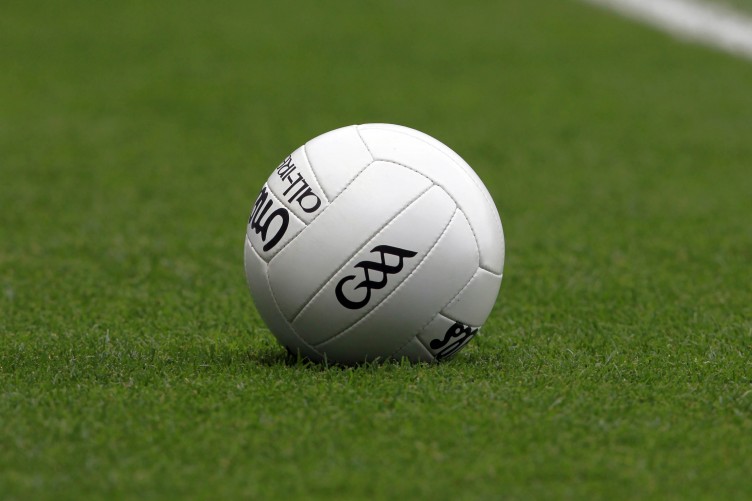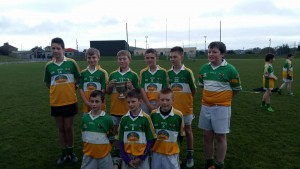 The boys football team were in hard luck on Monday afternoon when they were defeated by Fethard on a scoreline of 1-10 to 1-6 at the semi-final stage of the Rackard League. All Kiltealy players put in a mighty performance and were unfortunate to come out of the game with a loss. The team were well in contention at half-time but a few second half controversial decisions did not go in their favour and a victory slowly slipped away.
Well done to the entire team who did themselves, their schools and their families very proud throughout the league.
We look forward to seeing these boys in hurling action later in the school year as no doubt they will put in another great league campaign.
Rackard League
The Camogie girls began their league journey in Bunclody on a wet Thursday last week. This game was very tight and having held the lead into the second half the girls were unlucky to lose by the final whistle.
Final Score Ballindaggin (Kitealy & Caim) 1-3 Bunclody 3-2
Kiltealy Girls involved on the day were Heather Boyce, Emma Healy, Rebecca Codd, Katie Bowe and Lauren Smith.
The girls play Castlebridge this week.
The hurlers begin their campaign this week also playing Marshalstown in Farmleigh on Tuesday 4th at 1pm.
Kiltealy Boys invovled are Ryan Purcell, Jacques Neville, Michael Murphy, Danny Fitzhenry, Dylan Purcell, Padraig Waters, Ciarán Murphy, James Aylward, Noel Cowman, Tomás Murphy, Cillian Hanrahan and David Nolan (injured)
Best of luck to both teams for the league ahead.
Congratulations to the hurling and camogie teams this week. Our hurlers had a great win over Marshalstown in Farmleigh on Tuesday with a final score of 5-15 to 1-1.
Our camogie team had an impressive win over Castlebridge on Monday. The final score in Coolree was Ballindaggin (Kiltealy & Caim) 9-3 Castlebridge 0-0.
Our next games will take place after the Easter Holidays!
SEMI-FINALS HERE WE COME!!
Congratulations to the Rackard League Hurling Team on a fantastic District Final win on Monday in Patrick's Park, Enniscorthy. The team beat Oilgate on a scoreline of 2-9 to 1-4. Well done to all Kiltealy pupils involved and to Danny Fitzhenry who captained the team on the day.
Their county semi-final against Ramsgrange takes place this coming Monday the 29th May in Bree at 3.45pm. All support welcome.
Best of luck boys!!!!
The Rackard League Camogie Team were also successful in their quarter final on Tuesday beating Rathangan on a scoreline of 3-7 to 0-2. This was a great team effort.
Their county semi-final takes place tomorrow, Thursday 25th of May at 1:00pm in Coolree. Opposition is Horeswood.
Best of luck girls!!!!
Congratulations to both the Hurling and Camogie Rackard League Teams on their most recent wins. The camogie team had a fantastic win over Horeswood in their semi-final on Thursday and will contest the Roinn B county final on Wednesday in Patrick's Park Enniscorthy at 7.45pm against Glynn or Loreto Gorey.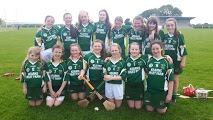 The hurlers won the district final and will now take on Ramsgrange in the Roinn C county semi final on Monday 29th, in Bree, at 3.45pm. Well done to all involved.
Finals Here We Come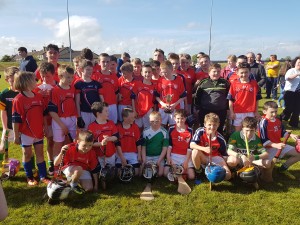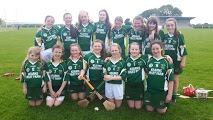 Best of Luck to our hurling and camogie teams in this years Rackard League Finals.
The teams play in a double header in St. Patrick's Park, Enniscorthy, tomorrow, Wednesday 31st.
The Roinn B Camogie Final is the curtain raiser to the Roinn C Hurling Final.
Camogie throw-in: 7:05pm
Hurling throw-in: 8:10pm
Well done to all involved. We are extremely proud of the achievements of both teams to date and wish them every success in the finals!!!
Both the Hurlers and Camogie Players lifting the cups in Patrick's Park.

Our two captains on the night