Monthly Archives:
February 2020
2o Years Celebration
Congratulations to Mary O'Brien who recently celebrated 20 years as secretary here in Kiltealy NS. Always so helpful and giving of her time, we hope she enjoyed the well deserved marking of this special occasion. Here's to many more years with us.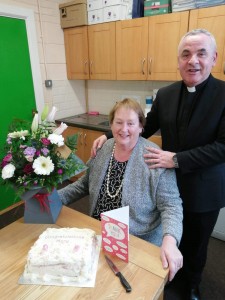 Hurling News!
Hurling with Jim Cooper and Jim Hanrahan has started back on Thursdays!
Check out our new Aldi Rugby bibs! Thanks again to everyone who collects the Aldi Rugby stickers. We receive resources for our school with every poster we fill so keep collecting!
Keep up to date with all our news and upcoming events. Click on the link below.
Living Arts Programme Comes to an End!
Unfortunately the Living Arts Programme has come to an end. We have really enjoyed the past 14 weeks working with Mary-Claire and Anne. We are looking forward to seeing our work on display in the coming months. Until then, here are some of the projects that we have done over the past while. Enjoy!
Living Arts – Collage Faces!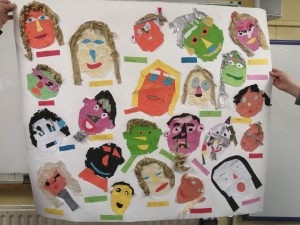 Living Arts – Puppet Show!

Living Arts – Puppet Show Backgrounds
     
Living Arts – Tinfoil Figures
Living Arts – Puppets!
Living Arts – Picasso Clay Faces!
 
Living Arts – Print Making!

Living Arts – Collage Pictures!
             
Our Friday Living Arts Programme for  pupils from 1st – 4th class will come to an end on Friday 7th February. The children have had a really enjoyable experience and have produced some wonderful artistic creations. A selection of the children's work will be exhibited in The Arts Centre in Wexford for month long period.
All children, parents and teacher are invited and encouraged to attend a special opening of the exhibition on Saturday the 28th March at 3pm. The exhibition will then run from March 30th until May 2nd and children can revisit the centre if they wish during this time.
A school trip is organised for Wednesday April 1st where the children will visit the Wexford County Council Art Collection and the Arts Centre to look at their living arts exhibition in detail with their tutors Mary Claire and Ann . They will also engage in an art lesson on the day.
Many thanks to Mary-Claire and Ann for all their hard work over the past few months. Thanks to Wexford Co.Co. and The Arts Centre for supporting this project.
Our committee had a visit from our Travel Officer Jennifer Cooney today. They carried out a walkability audit of our village to highlight the positives and negatives of our route to school. They also took note of the various modes of transport that use the route and whether they considered them to be driving too fast. It was a very insightful experience for our committee.