2o Years Celebration
Congratulations to Mary O'Brien who recently celebrated 20 years as secretary here in Kiltealy NS. Always so helpful and giving of her time, we hope she enjoyed the well deserved marking of this special occasion. Here's to many more years with us.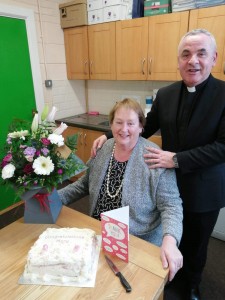 Hurling News!
Hurling with Jim Cooper and Jim Hanrahan has started back on Thursdays!
Check out our new Aldi Rugby bibs! Thanks again to everyone who collects the Aldi Rugby stickers. We receive resources for our school with every poster we fill so keep collecting!