Food Dudes 2022
Our eating habits are being challenged as the Food Dudes programme hits our school. The Dudes – who take on superpowers when they eat the right food – aim to make vegetables and fruit attractive with a programme of videos and daily tasting. The kids are all excited and taking to it with gusto! Well done!
Welcome " Incredible Edibles" to Kiltealy N.S.
Third and Fourth Class are taking part in the Incredible Edibles Programme. Incredible Edibles is a healthy eating initiative for Primary School pupils. It encourages schools across the country to get busy growing carrots, lettuce, potatoes, strawberries and turnips. Schools are supplied with grow packs containing everything they needed to grow a veritable feast of healthy foods!
****************************************************************************
We had a healthy eating day on Wednesday 10th of February. Everybody made a huge effort to bring in an extra healthy lunch. We brought in lots of different types of fruit and vegetables to share with our friends. We got to try different types of foods that we hadn't tasted before. Yummy!
***********************************
Food Dudes in Junior and Senior Infants Feb – March 2015
Junior and Senior Infants are really enjoying eating healthy fruit and vegetables every day , sent to us by food dudes. They have all received two lovely food dudes lunchboxes, one for fruit and one for vegetables. Have a look at our food dudes display and some pictures of us tasting our yummy fruit and veg.
*********************************************************************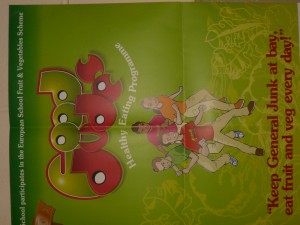 The " Food Dudes" are coming to Kiltealy N.S!!!!!
Food Dudes is a programme designed to encourage children to eat more fruit and vegetables both in school and at home.
This programme is commencing with the junior classes on Thursday 26th February. Junior & Senior Infants and first & second class will receive one portion of a different fruit and one portion of a different vegetable every day for 16 days – 26th February to 23rd March. If the children taste each of these they will receive a reward. After the 16 days, children are encouraged to continue to eat fruit and vegetables for their breaks & lunch. If they do so they will receive a certificate after a certain amount of days. We hope this programme will be effective in helping children make healthy choices.
3rd – 6th class are also taking part in Food Dudes. They are encouraged to eat more fruit and vegetables as past of their daily diet and will also have "fruit & vegetable tasting days" on the 5th, 10th, 13th & 20th of March.
For more info, please log onto www.fooddues.ie and see attached parents information letter.
*******************************************************************