Monthly Archives:
April 2015
Ms Byrne's Junior and Senior Infants  experienced how Michelangelo felt painting the ceiling of the Sistine Chapel today. We learned some basic facts about Michelangelo  and were surprised to discover he painted the ceiling of the Sistine Chapel while lying on his back. So today , we decided to see what that was like. We stuck paper underneath our tables and created some pictures while lying on our back. It was great fun to try this but I think we all agree it might not be the most comfortable!!! Have a look at some of our pics 😉
Our 5th & 6th class girls played their first Rackard League mini 7's football final in St Patricks Park on Wednesday 15th April against Horeswood N.S. The girls as always , played their best and showed determination throughout the entire game. We were sadly defeated by Horeswood with a final score of 1-6 to 2 points. However the girls should be extremely proud of themselves as are we. There were 46 teams at the start of the Mini 7's league and only 2 teams made it to the final , which is a tremendous achievement for both teams. The girls were presented with a silver medal for reaching the finals.
We would also like to thank all those who came to support the girls on the night.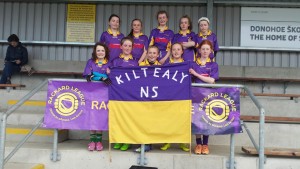 There will be hurling coaching from 1st class to 6th every Monday until further notice. Please ensure your child is wearing comfortable clothes, suitable footwear and have their hurls and helmets with them.
We would like to remind you that you can recycle your old newspapers in the recycling bins provided in the school yard. For each full bin we receive 50c , which adds up over the year. A little goes a long way!
The pupils of Kiltealy National School will take part in a Spring Clean Action Day next Wednesday 29th of April as part of the Green Schools initative. Each class will be designated a different area in the locality to collect rubbish in. We have received resources from An Taisce such as gloves, rubbish bags and bibs for the children to wear. Each class will be closely supervised , however we do ask that you are extra vigilant if driving through during school hours.
This week's lucky Split the Pot winner was Ann Byrne of Mohurry who won €201.00. Many thanks to everyone for your continued support.