Monthly Archives:
September 2018
Four Season Trees!
We learned all about the four seasons. We painted Four Season Trees. Each strip represents a season.
Spring, Summer, Autumn and Winter!
      
Autumn Nature Walk!
We went for a walk around the school grounds looking at the different trees and identifying the some signs of autumn. Along the journey we met Mr. Jim Hanrahan out gardening. He showed us his vegetable patch and talked to us about all the things he grows in his garden!
Reading Corner!
We made a reading corner in our classroom. Check it out!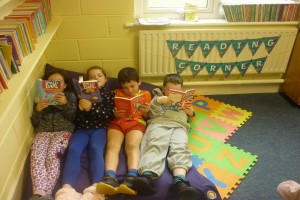 Roald Dahl Day!
We read Roald Dahl's book – Fantastic Mr. Fox.
We tried to help Boggis, Bean and Bunce to catch Mr. Fox. We created a wanted poster and a character description of Mr. Fox! We also coloured some pictures of the character in the book!
We did Kandinsky Circle Trees!
    
Welcome Back 1st & 2nd Class!!!
    
Welcome Back Denis and Olivia !!!