Monthly Archives:
February 2016
The winners of Split The Pot on 15/2/16 were  -Kyle,Lucy,Grace,Emily and Roisin,c/o Peter Byrne.The prize was one hundred and eighty five euro.Congratulations!
The winner of Split The Pot on 22/2/16 Was Sean O Leary.Congratulations to Sean,who won two hundred and six euro.
The winner of Split The Pot on Monday 1st February was Myles Frayne.Myles won €205.
Henry Long was the winner of €210 on Monday 8th February.Congratulations to both winners and many thanks for your continued support with the weekly draw.
Primary Planet News!!!
Each month our 5th & 6th classes receive their own copy of The Primary Planet. The Primary Planet is Ireland's first children's news magazine. News, sport, music, entertainment, and politics are some of the many topics featured in this exciting publication each month. Aimed at the senior classes, this newspaper style glossy magazine contains 40 pages of fresh, topical and up to date features each month.
Its purpose is to bring news, sport and entertainment to children in a language they understand and in a manner they can easily relate to. It also encourages children to read and write for a purpose, providing opportunities for them to contribute to the magazine and engage with our readers.
There is always great excitement when the monthly delivery arrives into our classroom.
Keep an eye on our web page to find out what new, interesting, fun and inspiring things our class has learned from reading The Primary Planet.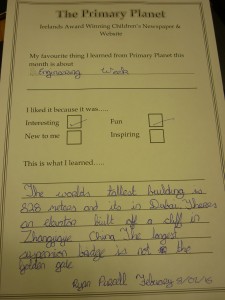 3rd – 6th class are sounding superb in their music lessons. All pupils are learning to play the tin whistle. For a lot of them this is their first time learning a musical instrument. We have a great music group formed with a variety of instruments. We look forward to hearing their talents at various school events throughout the year.
5th & 6th enjoyed their Yoga for Kids Programme  in P.E. over the past 6 weeks. Each yoga position had a name eg. hero, bridge, happy cat, up dog, sprinter.   Groups of children wrote stories using the vocabulary of the yoga positions. They then narrated the story while acting out their yoga positions.
Active Archie's Adventures!!!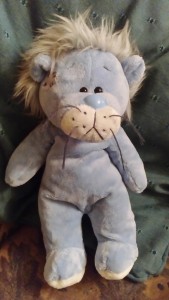 Through our Active Flag we are raising awareness of fitness among children. We will be aiming to explore as many avenues as possible to keep the children fit and active.
Active Archie has arrived in Kiltealty N.S. and has visited the children to say hello. As his name suggests, he likes getting lots of exercise and he really enjoys trying new activities.
We would like to invite boys and girls in the junior classes and their families to bring Active Archie along with them if they are doing some kind of physical activity, or going to a sporting event as either participants or spectators.
Active Archie will help us see all the activities that the children are involved in at home. This may be organised activities or simply bouncing on the trampoline. Active Archie will be having all sorts of exciting adventures in the next few months!
It would be great if the boys and girls could write about what they did with Active Archie and/or draw a picture about their adventure. Hopefully Active Archie will get to do lots of fun activities with the boys and girls and their families.