WeDo Lego
The boys and girls in 3rd and 4th class made lots of fun things using lego sets sent to us from the Wexford Education Centre. We worked in groups and made various different things from race cars and bees to helicopters and much more. Using our ipads, we downloaded the app WeDo2 and made our creations move and make sounds using our coding skills. It was great fun!
Field Trip to Bowe's Shop!
We learned all about our local area this month. We talked about the facilities and services that we have here in Kiltealy. We went to Bowes Shop and carried out a survey. We asked lots of questions and examined all the products that were available in the shop. We had great fun and even got to buy a treat!
Thank you to the Bowe family and all the staff for making our field trip happen!
From Ms. O'Neill and 3rd & 4th Class.
Two staff members from Kiltealy have trained in the INPP (Institute For Neuro-Physiological Psychology) programme for schools. This programme has been designed to allow teachers to more effectively assess neuromotor readiness for learning. It requires teachers to facilitate a short exercise programme each day for certain classes.
The programme was delivered by Aoife Caulfield and Judy Breen and is of particular benefit to students who exhibit neurodevelopmental delay (NDD). Nevertheless the exercises are beneficial for all. Listed below are some of the indicators that are commonly known to be indicative of NDD.
Reading and writing difficulties
Numeracy and organisational difficulties
Co-ordination problems and clumsiness
Poor concentration/distractibility
Visual and auditory processing difficulties.
Poor bladder control
Delayed speech and language disorders
Hypersensitivity (physical and emotional)
Hearing and sequencing difficulties
Balance problems
Stressed, withdrawn and over tired
This programme will be rolled out in our school from September 2018.
The Readathon in Kiltealy NS commenced prior to Easter. Ms. Kehoe was thrilled to announce that the number of books read exceeded last years total. Final numbers will be added to this post shortly.
The sunshine last Friday was an excellent opportunity to announce the winners of the competition outdoors. The pupils showed an amazing interest in this years reading initiative. Congratulations to all who were involved.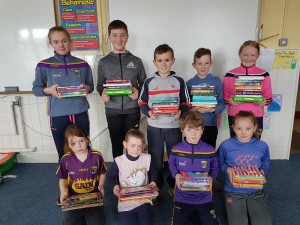 We teamed up with Celtic Travelling Books this week in hosting a fantastic Book Fair. The book fair was really well supported by pupils and parents and earned us a huge amount of books for our classroom libraries. Thank you to all teachers and our students council who helped run the fair and make it the great success it was.
Above are members of our student council with all the books earned in reward for books purchased in our book fair. The pupils cant wait to get their hands on these for some great reads.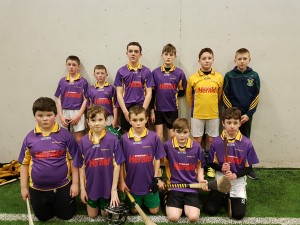 Kiltealy Mini 7 Hurlers 2018
Hurling and Camogie season has commenced for 2018 and we are off to a flying start.
Mini 7s round 1 took place just before Easter and despite our boys putting in two super performances against both Marshalstown and Rathnure, one win and one loss wasn't enough to send them through to Round 2.
The girls did progress to Round 2 with convincing victories over Kilmyshall and Marshalstown. The girls will compete in Round 2 next week.
Rackard League has also begun on the back of a victorious season in 2017 with both teams bringing home the silverware in their divisions.
Our boys had a great win over Rathnure on Monday in their first game and look forward with confidence to their next game.
The girls Rackard League team gets their campaign under way this Thursday against reigning Roinn A champions Kilrush. We wish both the boys and girls teams the best of luck throughout the League.
Pupils from 3rd to 6th class were treated to a beginner golf lesson today. Weather forced us indoors but that didn't stop the fun as the pupils perfected their technique in the various skills of golf. Rumour has it the teachers pitched their shot to the net too, bagging the kids a night off homework!!! Great days fun all round!
5th & 6th Class
3rd & 4th Class