Monthly Archives:
March 2016
Celebrations were in full swing in Kiltealy N.S. on Tuesday March 15th for the raising of Our Tricolour and to commemorate the 1916 Rising. The first event of the day was the raising of the Irish flag outside our school. This great honour fell to local man Jim Cooper a former member of the Irish Defence Forces. The children, staff and Fr. Morris all stood to attention to witness the flag being hoisted and afterwards sang our National Anthem with great pride. 5th Class pupil James Aylward provided music accompaniment on the accordion.
Celebrations moved to the community hall for the afternoon where a great crowd of parents, grandparents and members of the wider community attended our commemoration of the 1916 Rising.  Jim Cooper , Father Morris, Seamus Rafter and recently retired former Principal of Kiltealy N.S. Mary Kavanagh were all in attendance.
3rd and 4th class pupils gave a lovely introduction to the ceremony with a brief account of the lead up to the Rising and the care of our National Flag. Fr. Morris then spoke briefly before introducing Seamus Rafter, whos family was heavily involved in 1916 Easter Rising Events in Enniscorthy. Seamus gave a detailed account of events in Enniscorthy during the Rising. The legacy of the Rising was delivered to us by David Nolan and Dylan Purcell.
Senior pupils then read out the 1916 Proclamation and their New 2016 Proclamation which 5th & 6th Class wrote collaboratively for the celebrations.
Following this, we had music to our ears with some fantastic instrumental pieces played by all pupils from 3rd – 6th class. The crowd thoroughly enjoyed listening to our National Anthem, Inisere, The Rathlin Bog, Dawning of the Day and The Foggy Dew.
The crowd were then treated to a lovely rendition of the Song "Grace" after hearing the story and meaning behind the lyrics, read out by Niamh Armstrong.
1st and 2nd class took to the stage to recite an excellently written poem all about the Rising. They received a rapturous applause and it was well deserved.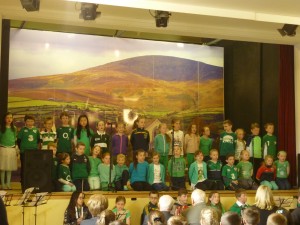 The infants added the cute factor with their brilliantly choreographed traditional Irish group dance.
The children made some amazing art displays and there was some fantastic memorabilia from 1916, including Michael Collin's prayer book, for everyone to enjoy.
*******************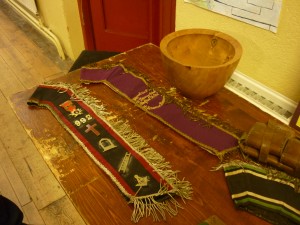 ****************
All the staff here in Kiltealy would like to thank the pupils, their families and the entire community of Kiltealy for attending our celebration and commemoration in what will be a great memory for all to take with them into the future.
Well done to all our pupils from infants to sixth class who took part in our 10 week Problem Solving Initiative. For this initiative everyone worked really hard to solve visual problems on an individual basis and results were very tight to find a winner and runner up in each class. Here are our worthy winners!
6th Class Winner: Aoife Pender                           5th Class Winner: James Aylward
Runner Up:            Saoirse Hanrahan                 Runner Up:            Heather Boyce
4th Class Winner: Danny Fitzhenry                     3rd Class Winner: Noah Mangan
Runner Up:            Dannan Long                            Runner Up:             Niamh Armstrong
2nd Class Winner:  John Murphy                          1st Class Winner:   Kevin Armstrong
Runner Up:               Qi-Qi Wren                              Runner Up:             Bobby Watchorn
Senior Infant Winner:   Lucy Nolan                      Junior Infant Winner:   William Curtis
Runner Up:                      Orla Pender                    Runner Up:                      Oran Bowe
CONGRATULATIONS
We have been very busy in Kiltealy N.S. with our senior teams taking part in various sporting events last week.
Our hurlers took part in the Mini-Sevens League last Tuesday in Rathnure. They had 2 games on the day. They had a great victory over Raheen in their first game. Unfortunately they hadn't the same luck in the second game and were defeated by Rathnure. They played extremely well in both games and did themselves, their school and families very proud. Well done boys. Thanks to Ms. Duff and Jim Cooper for his participation on the day.
Team: Tiernan Fitzhenry, Ian Blake, Callum Boyce, Michael Murphy, James Aylward, Jacques Neville, Ryan Purcell, Danny Fitzhenry, Dylan Purcell and David Nolan.
****************************************************************************************
On Wednesday both the boys and girls soccer teams were in action in the FAI Primary Schools 5s Programme. This blitz took place in Ajax Grounds in Enniscorthy. The boys team finished 3rd in a group of 6 teams and the girls finished 3rd in their group of 7 teams. Both teams missed out on qualifying for the next round by very small margin.
Boys Team: Oran Grogan, Thomas Byrne, Callum Boyce, Tiernan Fitzhenry, Ian Blake, Tomás Murphy, Jacques Neville and Padraig Waters.
Girls Team: Aoife Pender, Abigail Cullen, Katie Bowe, Aoife O'Leary, Heather Boyce, Caoimhe O'Brien, Emma Healy and Rebecca Codd.
Well done to all involved and a special thanks to our soccer coaches, Mr. Kane and Ms. Donoghue.
***********************************************************************************************
On Thursday the camogie team took part in their first round group stage of the Mini-Sevens League. They had three games on the day against St. Aidans, Raheen and Newbawn. The girls did extremely well. They won one game, drew one game, but were narrowly defeated in their 3rd game.
Team: Libby Cullen, Heather Boyce, Aimee Neville, Abigail Cullen, Lauren Smyth, Rebecca Codd, Katie Bowe, Alannah Kehoe, Ellie Watchorn and Maria de la Paz.
Well done girls and thanks to Ms. Dunne for all her work with the girls to date.
Winner of Split the Pot for March 14th was Peter Brooks. This weeks pot was €188. Thank you all for your continuous support! Remember if you're not in you cant win!!!
We are all very excited about Proclamation Day in Kiltealy N.S.
Everyone is welcome to come join us in our celebrations at 1.30 pm on the 15th March .
There will be music, singing, recitals, art and projects on display.
All welcome !!
All classes had great fun for science week. We took part in lots of experiments and fun science lessons.
3rd and 4th Class made paper air-planes and had a throwing contest!!
We took part in experiments on how to grow mould and had great fun with balloons and static electricity!
***********************************************************************************************
First and Second class made salt crystals, planted daffodils, made panpipes, made shaving foam prints and went on a nature walk searching for signs of Spring!
We made prints using shaving foam and paint!
We made panpipes using lolipop sticks and different size straws!
We went on a nature walk in search of signs of spring!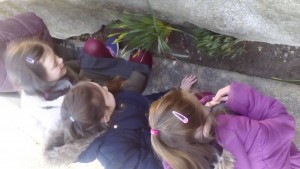 We made salt crystals using watered down paint and salt!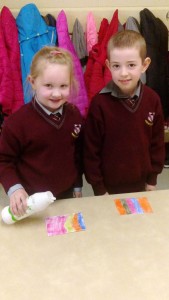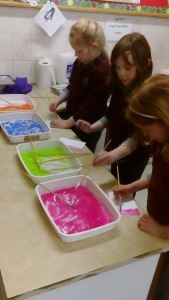 We planted daffodil bulbs and watched them grow!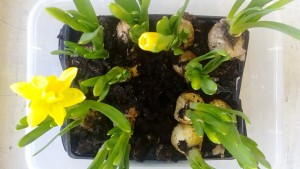 Thank you to all who supported our Brown Coin Collection. We have had an amazing response. Third and Fourth been working hard sorting and counting all your coins. We are delighted to announce we have collected €626 so far and we still have some coins to count.
A huge thank you from all the boys and girls in first and second class! We love our new toys!!!