Monthly Archives:
February 2018
3rd & 4th Class had a special visit this week from Enniscorthy Fire Station. Two firemen came out to our school and taught us all about fire safety, how to identify dangers and what to do in the case of an emergency. They told us lots of stories and answered lots of questions. We even got our own fire safety pack to bring home!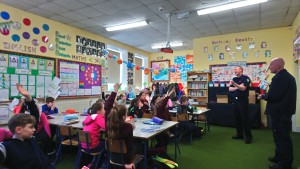 Local Sculptor Niall Deacon visited 5th & 6th class today. Niall was approached by the community park development committee to make a stone sculpture for the new park. 5th & 6th class pupils are going to come up various designs for engraving on the stone. Niall brought with him a cardboard cut-out to show the class the scale of the stone involved. Keep an eye out for the finished piece in the months ahead.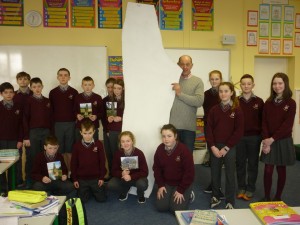 ***************************************************************************************
Grandparents Day and Retirement Mass !!!
Mass will take place on Friday February 2nd at 12 noon in celebration of our grandparents and the retirement of Mrs. Biddy O' Leary as caretaker of our School. Refreshments will be served afterwards in the school. All Grandparents, parents and wider community welcome.